BERNARDSTON UNITARIAN CHURCH
---
Bernardston Unitarian Church
2014 Calendar Update
Services and Programs begin at 11:30am. Coffee starts at 11.

---
---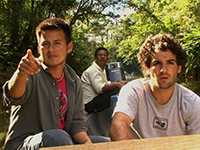 Saturday, May 2 , Screen time ~ 6:30pm "Oil & Water" ~ The third film in a trilogy of inspiring environmental films following our first Saturday with Steve Pot Luck at 5:30. Suggested donation for the movie $5, bring a dish to share for the Pot luck supper before the movie. About the movie: Two boys come of age looking for solutions to the global problem of reckless oil drilling following years of oil contamination in the Ecuadorian Amazon. Local connections. Spoiler alert! They find a solution!
More Information
---
---
Sunday Mornings-Coffee at 11:00, Service at 11:30
April
Saturday April 25th, 9am-4:30pm All day oil and acrylic workshop with Williamstown artist John MacDonald This workshop is limited to 12 and full at the moment. Another workshop is planned for August 29 with John Tomasetti and this is still open.

Sunday April 26, 11:00 am ~ Eric Wasileski presents his new book of poetry "Live Free (or die)" at coffee followed by
Sunday April 26, 11:30 am ~ another inspiring Earth Day Movie "The Wisdom to Survive."
"practical, transformational, imaginative ways to bring about ......a more sustainable world."



May

Saturday May 2, 5:30 First Saturday with Steve, Pot Luck and film ~ "Oil & Water" "an epic David and Goliath tale about the Amazon.... movie 8 years in the making."

Sunday, May 3 Barry Deitz: "The Unitarian Transcendentalists." 11:30am a round table discussion tracing the story of Thoreau and Walden and his nature writing and how some of the founding ideas of modern environmentalism grew out of his writings.

Try out Dan's Franklin County UU YouTube Channel www.youtube.com/user/FranklinCountyUUs



---
Call 413 330-0807 for information or if you need to carpool to come to church or events.

Wednesdays On-going Wed. Meetinghouse Artists group, 9:30am to noon. Bring your project, materials, craft to a congenial gathering. We are planning for a group exhibition in November at the Meetinghouse. Join us!