Sunday Mornings-Coffee at 11:00, Service at 11:30

2016 Summer Schedule ~ 1739 Bernardston Unitarian Meetinghouse

August 7th 11:30 am ~ coffee at 11am : Unitarian Grace: One can be said to have grace, or be graceful, to be prayerful before a meal is to say grace. This spiritual attribute and word that came to connote fluid elegant action is the same word we use to talk about the idea of God swooping down to protect and save us. Today we have a meditation and examination on this both beautiful and enigmatic word.
August 14th ~ No Service
Aug 21st 11:30 am ~ coffee at 11am ~ Virtue- Life's Essential Skills: Honest, disciplined, humble, and patient are all the things we want our neighbors to be. This simple sermon falls somewhere between a rap on the knuckles lecture about being good, and a self–esteem group hug to do your best and don't fret.

Concord Road Trip still in planning stages.... Our originally scheduled road trip and historic tour of Concord, MA hitting some special UU iconic spots is postponed until Fall. We are doing some more specific planning and hope all our speakers who illude to the heritage of Emerson, Thoreau and their association of free thinkers in their sermons will accompany us to enrich the journey. Stay tuned and indicate your interest and availability. Email me at annette@bernardstonunitarian.org if you hope to participate in our trip this Fall.
Sunday, Sept 18th 11:30 am ~ coffee at 11am ~ Discerning What to Worry about (A Water In-Gathering Service): Water is the source of life.. It is the largest percentage of earth surface. Water is the bulk of your body's weight. Wow. In this water in gathering service we speak personally about our unique gifts, and get into the issue of what one should really worry about. Grab the water you saved this summer, take a few mental notes about your summer and join us for the first official service of the church year.
Two opportunities for Summer Community Service:
UUs at the Franklin County Fair. Bernardston and Greenfield UUs are joining to person a booth at the Fairgrounds
Sept. 8-11.
If you can sit for a spell, contact Annette or Dan Tinen. Greenfield is coordinating the schedule. Do stop by and chat if you are attending the Fair!!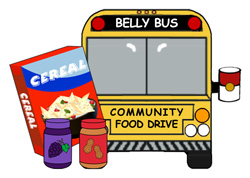 On Aug. 12 the Franklin County Belly Bus food collection helps feed local children while school lunches are unavailable. Funds or food. On the Common in Greenfield.
The 12th Annual Fill the Belly Bus Food Drive Friday, August 12th, 3:00-5:00 PM Greenfield Town Common
weather updates at www.bernardstonunitarian.com or call 413-330-0807
---
Try out Dan's Franklin County UU YouTube Channel www.youtube.com/user/FranklinCountyUUs

---
Call 413 330-0807 for information or if you need to carpool to come to church or events.

Contact Rev. Steve Wilson if you have a pastoral need or would like a visit.- 617-852-2292
Wednesdays

On-going Wed. Meetinghouse Artists group, 9:30am to noon. Bring your project, materials, craft to a congenial gathering. We are planning for a group exhibition in November at the Meetinghouse. Join us!

Experience Unitarian Warmth
There's always something happening at
the Bernardston Unitarian Church